This month's #BlogBattle word was 'Educate'. With that in mind, here's another small installment on the Luna Chronicles' Moon family. Enjoy 😉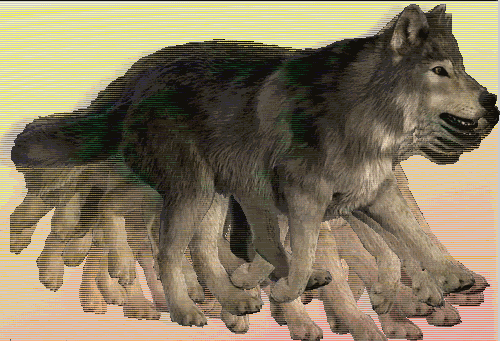 Tammy watched as her mom loped out the back gate to join Walt. Pack historian and Beta of the Spokane Guardians, he greeted Miranda in the alley before they both disappeared into the moonless night. So much had changed since her mother had been diagnosed with Lupus and joined the pack Tammy wasn't sure her brain could keep up.
A few months ago she'd been so angry about her mother's poor health, blaming her for wrecking family outings by being too tired, using up family funds for, what she had thought at the time were, unnecessary doctor visits, and for not being there when Tammy needed her. The super reliable, highly motivated and organized mom she'd grown up with had slowly disappeared over the course of the last year. She'd given up her PTA duties, stopped teaching Sunday School at their parish, and didn't make it to a single one of Tammy's volleyball games. Mom said it was because taking on an office job after fifteen years as a stay-at-home parent was too much for her, but Tammy suspected it was due to all the extra weight mom had put on. She blamed it on the steroids, but Tammy had assumed it was because she ate too much and rarely got off the couch anymore.  Isn't that what usually happens when people do that?
Tammy cut her mom a little slack when she injured herself. Mom was a total klutz, but the last accidental injury had been really bad. Miranda's knee had given out and she fell face first onto the washing machine, breaking her nose and gaining a concussion. That had scared Tammy into considering the possibility that her mom really did suffer some illness, but it wasn't until Dr. Reynolds diagnosis –  Systemic Lupus Erythematosus (or SLE) –  that Tammy really began to understand what it was her mom had been struggling with.
Dad had shared the pamphlets Dr. Reynolds gave him and asked both kids to read them. Matt read them over immediately (of course) but Tammy was still too angry. She'd thrown them aside and ignored them. They'd lain on the floor of her bedroom for weeks until something terrible and miraculous happened. Her brother was kidnapped and her mom came out of the closet – as a werewolf! It had been a harrowing night that, thankfully, ended well.
Now her mother was one of the Spokane Guardians. Mom's friend and Mentor, Sherryl had explained that they weren't like the movie werewolves. Silver did not bother them, the moon didn't force their transformations, and they didn't go nuts and kill people. Well, hardly ever. They were, according to Sherryl, a pack of werewolves created by an unknown saint, and charged with the protection of whatever community they happened to be a part of. Tammy thought that was pretty cool, but the best part as far as she was concerned was her mother's new ability to eat anything and never gain an ounce! She sort of wished she could do that too, but didn't really want to deal with all the follicular challenges mom now faced. Especially since that hilarious Nair incident.
Tammy chuckled as the memory filtered through her brain. She still needed to get copies of those pictures from Stan, the Alpha of the pack! Tammy's smile dissolved into a sigh. Time to get back to the books Walt had lent her. There were three of them: Spokane Guardians – A Short History, Lupus: A Disease for Humans and Canines, and last but not least, So Your Family Member's A Werewolf – A Guide To What Comes Next.  She wandered back to her bedroom, shut the door and started the playlist on her laptop. As Drake's song God's Plan filled her room Tammy cracked open the first book. "Time to get educated."