Not sure how many of you use Twitter, but I'm on there everyday and I follow the Spokane Authors & Self-Publishers account. They don't post every day but when they do, it's usually pretty fun. Well this time they've started a May writers challenge, the Sunday Image Prompt. Click the link for original post. https://twitter.com/AndAuthors/status/1125154547083530242
The #SundayImagePrompt promises a new, strange image to write about every week. Here's their first image prompt. Fun huh?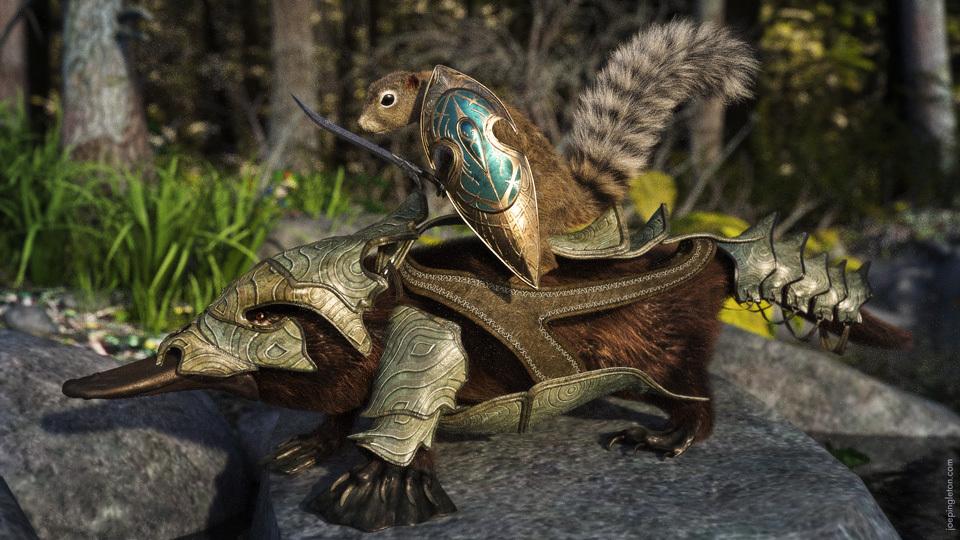 Well, after seeing this, I just HAD to take them up on the challenge. Enjoy my entry below, and if you like it, I may just continue the story! *********************************************************
Gerald picked up and hefted his great grandfather's sword a few times. Not his usual weapon, it felt strange and unwieldy in his paw. Still, despite his lack of experience, he knew it was time to join the fight to save his beloved homeland. He shoved the blade into it's sheath and tied it tightly to his pack before grabbing one more acorn for the road. As he chewed, he looked around at his home knowing he may never see it again.
His bed looked strangely naked, it's coverlet stashed in his pack. His tool chest closed and locked for the first time in years also looked odd. Due to the commanders weight restrictions for backpacks he'd had to leave the tools of his trade at home. Though, he did make one concession and brought along his favorite wrench. (A squirrel never knew when he'd have to loosen the odd tough nut!) The desk, usually a disorganized mess, was now neatly arranged. His neighbor, Ruth, had promised to take care of his affairs while he was gone and he wanted to make it easy for her. Cleaning that up had been a major task, of course, nothing like what he was heading to. Stories from the front lines had been bleak, at best.
One last bite of acorn and Gerald knew it was time to leave. His precious books lined the walls around him. Many, worn by time, lent a distinguished warmth to his home. Others, still shiny and new, graced his to-be-read shelf. To those he silently promised to return. Gerald loved his books. Through them he'd learned much and lived many adventures, but now it was time to embark on a real one. With a last sorrowful glance, he closed the door to his comfy home and began the long walk to the training camp.
On the second day of his journey, a young jack rabbit stumbled into the road ahead of him. Upon seeing Gerald, the rabbit waved and hollered, "Hullo there! Is this the road to Commander Coyote's basic training camp?"
"Why, yes it is. I'm headed there myself."
The jack rabbit gave Gerald a buck toothed grin. "Great! Do you mind if I travel with you?"
"Not at all. I'd appreciate the company. My name is Gerald. What's yours?"
"Nice to meet you, Gerald," the rabbit extended a paw, "my name is Conrad."
The two shook paws before resuming their trek and Conrad resumed speaking.
"I take it you don't have a mount either?"
Gerald grimaced. "No, I used to have a tree frog, but she met an unfortunate end when a flock of cranes decided to take a break and landed all around her."
Conrad shuddered. "Oh that's horrid. I'm so sorry."
"Thank you," Gerald sighed. "She was a faithful frog, but she was old and had started to wander further and further from the paddock. It was bound to happen eventually."
Conrad nodded knowingly. After a moment of silence he asked, "Did you hear about the mounts on the battlefield?"
When Gerald shook his head the rabbit continued. "I heard that all sorts of mounts are available but they only ever award mounts to the best of the best, and rather than the soldier choosing their mount, the mount chooses them!"
When Gerald looked askance at Conrad, he shrugged. "Hey, I'm just repeating what I've heard. It's weird though, isn't it? How would a mount choose it's rider?"
"Maybe it's magic." Gerald offered. When Conrad remained silent, he looked up at his new companion only to find him a few feet behind with a stunned expression on his face. "What's wrong, Conrad?"
"No. . . Nothing. It's just, that would explain so much! My grandpa always spun yarns about his time in the militia and talked about the magical mounts used by the elite soldiers during the Greenleaf war. I always thought he was just, ya know, embellishing his stories. But after what I've heard from others, maybe he was telling the truth after all."
"Maybe," Gerald adjusted his pack, "but we'll never find out if we don't keep walking. Let's get moving. We've only got a few more miles to go before we reach the river crossing. Another day's travel after that and we'll reach the training camp. Then we'll know more about all of this."
Conrad nodded. "You're right." He caught up with his new squirrel friend and they resumed walking. "So, if you were to become an elite soldier, what kind of mount do you think would pick you?"
Gerald chuckled. "I don't know but with my luck, I'd probably end up with a platypus!"